Whale Watch Inn is Pet Friendly!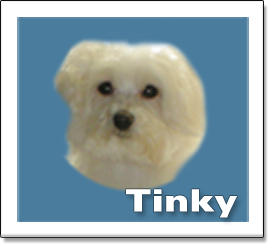 We invite you to bring your pet on vacation and we are sure that you will have a wonderful time here. In an effort to protect our rooms and property, we will provide you with a pet bed, a blanket and a blue pet towel. We will also provide a stainless steel water and food dish on a rubber mat in the room. Tinky is looking forward to meeting your pet!
In order that both you and your pet enjoy your stay at the Whale Watch Inn, we do expect that you and your pet follow these guidelines:
My pet is not aggressive; up to date with vaccinations and is well socialized with other animals and with other people.

My pet is free of ticks and fleas

My pet will be on a leash and under my control when outside.

I will clean up after my pet and dispose of any waste in the trash can located on the outside deck.

I will notify the management of any pet "accidents" immediately and request special cleaning efforts.

I will keep my pet off of all furniture including the bed, chairs or couches. A cleaning fee will be assesed for rooms that require excessive cleaning due to stained bedspreads, etc.

I will clean off my pet if he / she is wet or dirty using the towels provided before letting them in the room. I will keep my pets out of all bathtubs, showers, and hot tubs; a designated outdoor location will be provided if necessary.

I will assume financial responsibility for any damage caused by my pet during my stay.

My pet will be with me under my care at all times. If I leave my pet unattended in a room I will assume financial responsibility for any damage that occurs. A fee will be assessed for all complaints of unattended animals causing a disturbance to other guests.
** Additional fee for Pets under ten pounds - $40; Pets over ten pounds - $50. Innkeepers choice of rooms.